Texting Appointment Reminders Hipaa - A Perfect Solution
---
You wouldn't think it would be difficult to persuade people to attend an appointment they had made on their own. It's a frustrating truth that practitioners are all too familiar with. There is a trend of patients failing to appear.

A single no-show costs a physician anything from $40,000 to $100,000 in annual income. As if that weren't horrible enough, it completely disrupts your day. It is not right that this occurs. The capacity to send automatic medical appointment reminders is important to the success of your organization.
Setting up automated appointment reminders is the most successful approach for reducing the amount of missed appointments, according to office managers, physicians, and even academic research. Our texting appointment reminders HIPAA saves you a lot of time. The average medical appointment reminder calls last 4 to 8 minutes. A text message's average length is 30 seconds.
Reduce absenteeism
On average, less than 3% of Robotalker's clients do not show up.
Make them happy: 80 percent of patients prefer text message reminders.

Please acknowledge our automated appointment reminder system as the newest member of your team.
HIPAA Compliant Text Message Appointment Reminders can Help Forgetful People & Saves You a Lot of Revenue
According to a recent survey, 52 percent of patients who fail to show up for appointments are just forgetful. As a result, implementing automated appointment reminders may result in a significant reduction in no-show rates. They don't let the sufferers forget! Patients can instantly confirm, cancel, and reschedule appointments without needing to contact you.
Uses of Automated Medical Appointment Reminder
There is a clear relationship between missed appointments and the loss of money and resources as a result of appointment scheduling. Patients confirm 90% of their appointments with Robotalker's automated SMS and email reminders, resulting in fewer no-shows and more money for your company.
Regain control of your schedule
A medical appointment reminder service might be one of your most valuable team members.
The patient's name, the day and time of service, the location of the practice, and the doctor's name should all be included. Send reminders on a monthly, daily, hourly, or even immediate basis. To remind you of appointments, recorded phone calls or text messages can be sent. Send personalized auto-responses Cancellation and rescheduling requests should be logged. HIPAA compliance. Allow appointments to be automatically rescheduled if they are missed.
Robotalker is more than just a medical appointment reminder software; it is a full-service health management platform. Even appointment rescheduling may be automated with the aid of Robotalker's appointment reminder systems. Robotalker automatically delivers a follow-up message to patients who have been marked in your EHR as no-shows or cancellations. Patients can reschedule their appointments in real-time utilizing real-time online booking. As a consequence, the number of calls to patients is greatly decreased.
Appointment reminders for medical offices
---
All PHI information is encrypted, safe and secured
1. Upload phone numbers and variables in a CSV.
2. Create a template with #----# place holders.
3. Send out personalized text messages.
4. Save and name your template for later use.
5. Separate templates for TTS and text.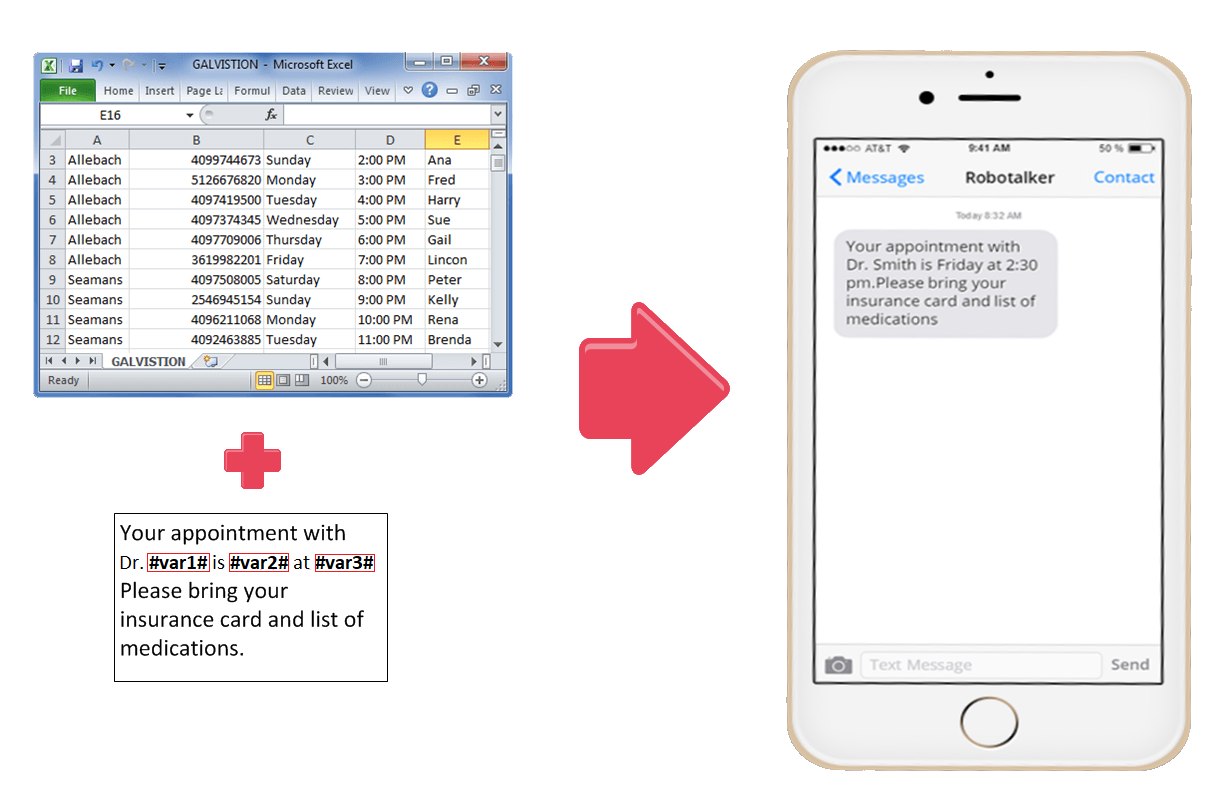 Building Text to Speech Robocalls
---
Without a doubt, we offer the best technology for voice quality and pronunciation for Text To Speech available today.
You may upload additional parameters to create personal text messages and Text-To-Speech phone calls for specific numbers on your contact lists.
Most of our competitors require that every message be reviewed and then approved before delivery, as well as the mandatory use of a SHORT-CODE and keyword to receive a response. This is an extremely time-consuming process and so, sending a targeted message to a small group of individuals is hardly worth the effort. However, whether you're sending a customized message to ten people or ten thousand people, Robotalker.com makes the process simple and quick!
Text messages may be personalize by inserting specific information to each contact's message
Hello
#name#

, We are texting to remind you of your appointment with

#var1#

on

#var2#

at

#var3#

. Reply with YES to confirm or to reschedule your appointment call 800-234-4567. Jones Medical Clinic!
Hipaa phone calls and text messages are a secure way to send PHI using phone and text messages for appointment reminders and notifications of medical test results are ready to your patients and organizations. All data is encrypted and secure and text to speech messages are erased after delivery as well as contacts are removed from the Hipaa system AUTOMATICALLY AFTER calls and text messages are sent to ensure all information is kept private.

Reports are redacted of all PHI by removing contact names, message, leaving only phone numbers and statistical results.

History and reporting can be user configured to automatically erase information after a prescribed period of days so managing of lists and results is greatly simplified for the users.

Hipaa system is completely secure and has its access limited to one employee for all updates and maintained.

Phone and text message are fully FTC and FCC compliant with rings and opt-out out options.
Why our Hipaa service is better than our standard product
---
Use only Tier One phone providers for higher delivery completion rates.
Provide better voice quality of Text to speech using our new AI voices.
Automatic resending for all failed SMS messages through an additional sms provider insuring the highest number of deliveries.
Hipaa compliant data storage is completely encrypted from end to end.
Hipaa compliant redaction of report information securing all PHI.
Additional security for all API interfaces to data.